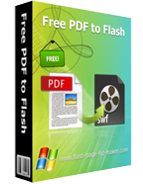 FREE
For Windows 7, Vista, XP

Free PDF to Flash
Free PDF to Flash
is a free tool which can convert the most widely used file format-PDF to SWF flash. It offers a user friendly interface. You don't need to pay any attention to it at all. It work extremely fast that you won't feel it waste any time of yours. And there are 3 different conversion modes for you to choose including Hot Directories Mode, Batch Mode and Command Line Mode.
Download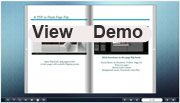 Flash Player 10.0+
1. Really Freeware
Free PDF to Flash is really freeware with no extra fees is required. Just download from our website, and then you can convert your PDF files to SWF flash forever.
2.Highly efficient
Even though Free PDF to Flash is software for free, it is very high-quality. For it only takes few seconds to finish your conversion and the interface are easy to understand.
3.Optional using mode

3.1Batch Convert Mode
It's really annoying if you need to deal with a lot of cumbersome files. So Batch convert mode is perfect fit for you. Under this mode, you can convert countless PDF files in batch in less than 3 minutes.
3.2Hot Directories Mode
It's a practical and advanced mode. Under this mode first you should specify where the input directory is, where the output directory is and where is log file path.  And if someone copies the files, then it will be sent to the output directory very soon.
3.3Command Line Mode

This mode is especially designed for people on the go who is not very available. While using this mode, Free PDF to Flash can help you finish the conversion without additional action.