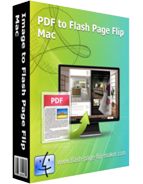 $99
For Mac OS 10.5 or above
(Not for PowerPC)

PDF to Flash Page Flip MAC
Create animated page flip book from ordinary PDF on MAC OS!
Many gorgeous templates and themes choices;
Highly control over your publication and beautify freely;
Help button with detailed instructions to assist your audience;
Utilize social network to spread your creation like Face Book, Twitter etc;
Thumbnail feature to get a overview of the content;
Set the language version as you like.
Flash Player 10.0+
Why Use?
Features
Screenshot
How It Works
If you are a big fan of MAC OS and need to create page flip book by yourself? Then PDF to Flash Page Flip MAC, a high-quality, yet affordable flipmac ebook maker would be pretty nice for you. It's fully customized software and all you need to do is just few clicks. For instance, tool bar can be placed on the top or the bottom by you. And it allows you to publish your creation online or install it as executable software finally.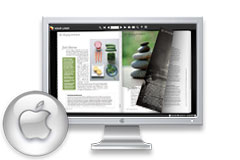 1. Page flip book builder on MAC OS
PDF to Flash Converter on Maclet you, a MAC user, make flipmac book with natural feeling of printed publication extremely easily. No any advanced computer language required and no third software installed. Whether you expect to publish digital brochure, digital magazine or digital catalog with page flip effects , it's no more than 3-step stuff.
2.Go green!
PDF to Flash Page Flip MAC is the best solution for you to make green decision while reading. Reading the eBook on MAC not only reduces your cost of printed version but also lower our carbon footprint. And it's good for bottom line and environment since it save paper by converting and distributing digital replica of your favorite publications.

3.Fully customization
Every element of the flipmac book is totally in the control of you. For instance, when creating, you have the power to add the book title or book logo which mirrors your style to the pages. In addition, you may let the publication take on the color as you wish whether background, icon or toolbar and much more.
4. Gorgeous templates and themes
There are plenty of built-in templates and themes to make your publication more engaging and eye-catching. We have divided our templates into 4 different categories; they are classical, float, neat and spread. You can select one that you think fit you most. Besides, more can be found on our website.
5. Reading with beautiful background music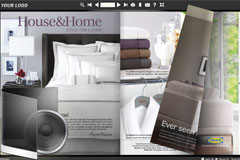 Want to read a page flip book while listening to your favorite songs or piano piece? Sure you can! PDF to Flash Page Flip MAC gives you the possibility to add any sound to your publication. And playing on a continuous loop or only once can be defined.
6. Social sharing
It would be very nice to let more and more people see stunning page flip book. With PDF to Flash Page Flip MAC - the flash converter for PDF, your content is ready to go viral across social networking sites such as Face Book, Twitter, LinkedIn and blogs.
7. Our gurantee

We offer exceptional customer service and competitive price. There are 3 basic terms as follows:
1. You can get a full refund if you are dissatisfied with our products within 30 days for any reason;
2. You can upgrade the software forever without extra fees;
3. You can use it as many times as you wish once you purchase.
Import Features:
1. Import all pages or just some pages as you wish;
2. Set an exclusive watermark which is only belong to yourself;
3. Define the page quality, whether high or other;
4. Import the bookmark from original files;
5. Preserve the hyperlink including web link, page link and email link of the original PDF files in page flip;
Design Features:
1. Turn any PDF file (including its bookmark, links)to adobe flash based page flip;
2. Support converting PDF files in batch to page flip;
3. Choose a built-in theme or template (classical, float, neat, spread) as you like;
4. Add your own book title or book logo to the page flip button bar;
5. Define content of help window, also the looks and feels;
6. Select a built-in theme or template (classical, float, neat, spread) as you like;
7. Insert a sound file which will be playing as a background book music;
8. Use zoom in/zoom out unlimitedly and set zoom scale;
9. Tell your friends, partners via email or upload it to social network like Face Book, Twitter, Digg, Google, etc;
10. Support auto-flip with flip-interval and play count setting;
11. Enable single page or double page view mode;
12. Set Multilingual version for different countries ;
13. Add book frame bar to flip much easily;
14. Set book reading from right to left for words start with left languages;
15. Design hard cover to enhance the feeling of the book;
16. Know the effect after setting immediately;
17. Export and save the project if you think everything is okay;
18. Define button color, search highlight color, icon colo
19. Set font color, whether window font, book mark font, window font or search result font;
20. Design background color, flash window color and page background color;
Free Publish Features:
1. HTML is a format which gives you the ability to publish your book to the Internet;
2. Mobile version is for people to read page flip on tablet, IOS and Android devices;
3. App is an executable software which can run on independently;
4. Burn to CD/DVD lets you copy it easily.
Page Flip Book Features:
1. Drag the corner of the page to go to previous or next page;
2. Click the page arrow or page frame to reach the previous or next page;
3. Use thumbnail button to navigate fast through a large publication;
4. Just need a few clicks on navigation buttons to go to previous page, next page, first page and last page;
5. Click help button to get a hand when needed;
6. Use search button to find out the page to get related info;
7. Print out the whole book or some pages only;
8. Make the book full screen for convenient reading
9. Zoom in/ zoom out on pages if the page font is too small to read;
10. Turn on/ off the background music;
11. Flip with a single page or double pages;