FREE
For Windows 7, Vista, XP

Grassland Theme for Flash Flip Book
Excellent resourse keep updating for flipbook!
100% free templates for flash flip book.
Help you design PDF to Flash book with easy steps.
Personalize flash flip book with wonderful flipping templates.

Download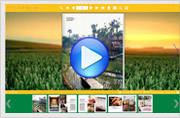 Flash Player 10.0+
Grassland Theme for Flash Flip Book - 100% Free
Grassland Theme for Flash Flip Book is the newest templates provided by FlashPageFlipMaker. Every week the online theme keeps updating and aims to offer you the freshest templates to design your flash flip catalog, flipping magazines, online eBook with any topic. Grassland theme shows you the wide vision about grass and the beautiful scenery in each picture provides you a special feeling of flash page flip book's background. If you want to convert PDF to stunning flash flip book, consider this package of flipbook templates. Welcome for any free download!
These are screenshots for Grassland templates: