Grass Style for Flash Flip Book
Fantastic flash flip book templates for decorating eBook without Payment!
Free templates download and keep free updating for all the time.
Helpful PDF to Flash Page Flip software assistant with rich resources.
Customize flash flip book with different style templates quickly and wasily.
Download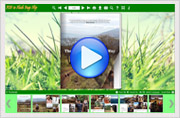 Flash Player 10.0+
Grass Style for Flash Flip Book
What will remind of you when someone mentioned grass? I think green color impression will quickly come into our minds. Grass is always green with its strong vitality. It will never die through we tread them. In your flash page flip book, the templates will bring meaningful layout. If you set it as you flash page flip eBook background, you will never get out of date with its beautiful look. What's more, its meaningful spirit will improve your flash flip book glamour.
These are Grass Style for Flash Flip Book screenshots: