Concise Background Theme for Flash Flip Book
Fantastic flash flip book templates for decorating eBook without Payment!
Free templates download and keep free updating for all the time.
Helpful PDF to Flash Page Flip software assistant with rich resources.
Customize flash flip book with different style templates quickly and wasily.
Download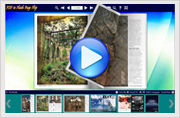 Flash Player 10.0+
Concise Background Theme for Flash Flip Book
Concise Background Theme for flash flip book takes the purpose to give designer of flash flip book concise vision while creating flash flip book with PDF file. There are no extra patterns in the templates but simple color and simple lines. This is welcome for the people who don't require complex background. What's more, it caters to all kinds of flash page flip because it has no obvious distinction from topic to topic. No matter to create a news paper of digital eBook, a business e-magazine or other flash page flip catalog, it will be good assistant.
Screenshot for Concise Background Theme for Flash Flip Book: